Sands Chevrolet Car Show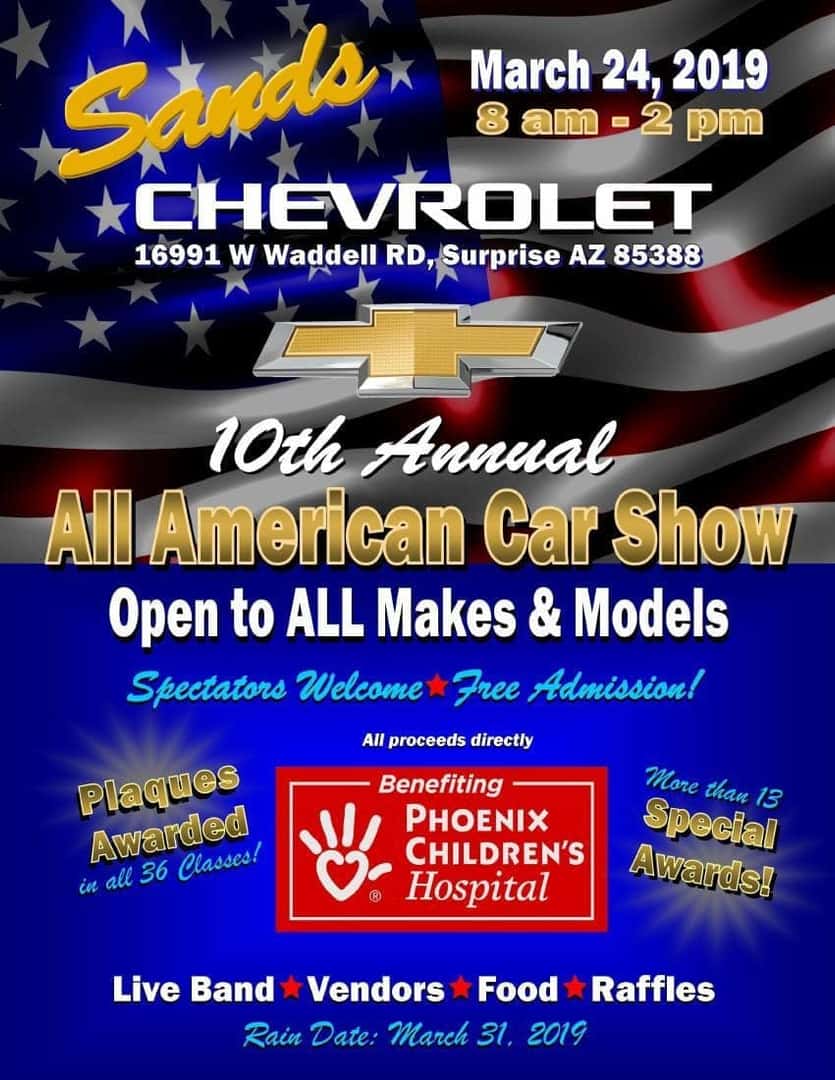 Desert Sands Corvettes present the All American 10th Annual Car Show on March 24th at Sands Chevrolet in Surprise.
This is a great event for both car enthusiasts and families with all proceeds to benefit Phoenix Children's Hospital.
The Car Show will have food, fun, raffle prizes, DJ, children's area and admission is FREE! Car Entries are $25.00 before 3/1/2019 and $30.00 after or day-of, there will also be an indoor showroom display option for $100 per vehicle (Must be a Chevrolet). Entry comes with a goody bag and participation trophy! Registration closes at 10am on day of show.
Click here to view and print this year's participation form.
Remember, All proceeds will go to the Phoenix Children's Hospital!
Large Specialty Trophies
Largest Club Participation
Best Tri-Five
Best SSR
Best Engine
Best Paint
Best Mustang
Best 1950 – 1960
Camaro
Best Corvettes
Best Interior
Show Room Best Corvette
Show Room Best
BEST OF SHOW
2019 Class Sheet
T Bucket
Street Pre 1939
Street Rod 39 – 49
Tri Five Chevy's 55,56,57
Trucks Pre 1949
Trucks 50 – 66
Trucks 67 – 72
Trucks 73 and Newer
SSR's
Mustangs 64 – 73
Mustangs 74 – 2005
Mustangs 2006 and Newer
Camaro up to Fifth Generation
5th Generation 2010 – 2015
Camaro 6th Generation
Firebird
Chevelle's 64 – 67
Chevelle's 68 – 72
GTO's
Corvettes 53 – 1962
Corvettes 63 – 67
Corvettes 68 – 82
Corvettes 84 – 96
Corvettes 97 – 2004
Corvettes 2005 – 2013, 4 Awards
Corvettes 2014 to Present, 4 Awards
1950's
1960's
1970's
1980's
1990's
2000 and Newer
Antique Class
Under Construction
Off-Road Vehicles
New this Year Corvair's
El Camino
Chevy Impala
Specialty Cars for Children